Ⲍⲁⲛⲇꞅⲁ

Admin


Posts

: 56


Join date

: 2017-03-14

on Tue Aug 29, 2017 5:46 pm
Is there a one of us anywhere not looking to break the everyday work cycle, whether it's a standard 9 to 5 or, even worse, a less stable part-time retail job. Before we get started, I don't want you to assume the following sites will make you filthy rich, by any stretch of the imagination. At best, it's been my personal experience that you'll essentially earn "fun money" -- nothing too serious that you can pay your bills with but enough to let you splurge (a little at a time, of course) on Amazon or eBay. Maybe it could be possible to turn this into a full-time main income, but the time necessary to put into it to do that far outweighs what you earn. In any case, let's get started.
----------

#CrowdTap
You won't earn cash with this one, but you will quickly earn points that can be exchanged for Amazon gift cards (every 1000 points = 1 $5 Amazon gift card). The reason I love CrowdTap, though, is because it's so simple and the points add up extremely fast. Sometimes, it's possible to earn two gift cards per visit. And it's easily possible to earn at least one gift card a week, especially with the amount of new brands utilizing their service. Here's how it works.
After signing up for a CrowdTap account, you'll be given the option to select the brands you use most (and even the ones you don't). After that, your dashboard will fill up with little tasks to complete, 90% of which consists of answering simple 1-5 question polls and surveys. Some tasks require you to take photos and submit them, others require essay answers. And sometimes, you'll also be given the option to enter giveaway sweepstakes. After completing each task, the points for that task will be added to your points balance, and the indicator always visible on the left side will give you constant notice of how many points you have left to go, as shown below.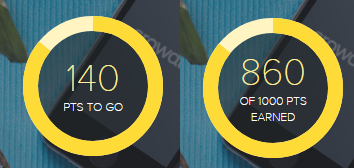 I don't know how long I've been a member of this site, but so far I have made $30 in
#Amazon
gift cards without having to spend any money. Gift cards are usually delivered via email a day or two after being awarded, unless it falls on a weekend, at which point it will arrive Monday. So far, there are no options to refer friends, but it may become a future option.

#PaidViewpoint
Paid Viewpoint is another of my favorites so far. How much or how little you participate determines your TraitScore, and the goal is to have a TraitScore of 9000 or more so you'll qualify for higher paying surveys. Initially, completion of surveys will pay 10 cents, and there is pretty much a new survey to answer every day. The questions may seem repetitive and/or redundant, but they're all a guaranteed ten cents. So far, I've accumulated $3.01, and you can cash out once you've reached $15.
Paid Viewpoint also offers users the option to refer friends and the possibility of earning an additional $25 every time they cash out. Otherwise it's pretty straightforward and unlike other survey sites where you may screen out numerous times before even qualifying for a survey, Paid Viewpoint pays you every time and you're guaranteed surveys almost every time you log in.

#SlicethePie
Slice the Pie is a website that pays you for your reviews. Similar to Paid Viewpoint, StP bases how much you make per review on your star rating, which is determined by the quality of your reviews. There are several categories you can choose from:


Music: various songs from various genres are played. You must listen to 30 seconds of it before you can write and submit your review.

Fashion: you are shown various items of clothing and/or accessories and, based on the descriptions provided,
you must provide a review about its pros and/or cons.

Mobile: this category shows you various mobile accessories, which you must review.

Lucky Dip: this category will provide you with random items from the other categories, which helps to shake up the monotony some.

Sometimes they will offer bonuses in certain categories, which means your reviews in said categories will garner higher payouts per review for a limited time.
I've been a member since March 2017 and have only earned $4.24 along with a 3-star rating. This is because I haven't put much time into the site since I'm a full-time student. But usually my reviews earn an average of 4 cents per review, and that will increase as my star rating does. I enjoy Slice the Pie because you're guaranteed to earn something for your reviews and, if you put in the time, I'd wager it's possible to make a decent passive income here. Just keep in mind you must earn $10 before you can cash out.

#SurveyJunkie
Survey Junkie, like CrowdTap, issues points for each survey you take. Every 100 points=$1, and you must earn $10 (or 1000 points) before you can cash out. I've been a member since December 2016 and have made exactly $16.19. Again, though, I haven't spent much time on this website, so I'm sure I could've cashed out once more by now, though my points balance indicator shows I have just 381 points left to earn before being able to cash out. Unlike CrowdTap, you're given the option to cash out through your
#PayPal
account (don't have one? Sign up for free
here
!) or apply your points to an egiftcard with the company of your choice. Your options are very much expanded. Also, unlike other survey sites, even if you're disqualified for a survey, you still earn 2-3 points just for trying! So they quickly rack up. The first time I cashed out, I was able to purchase a sweet pair of Aandrea Binaural In-Ear mics from Amazon. And it was totally free. That was an awesome feeling.

Earning your first $10 is super easy when you first join, because you're given a bonus just for signing up and the qualifying surveys you initially take as part of the registration process accrues a lot of points shortly after registration.
----------
These
#microtasking
sites are worth checking out, and would work perfectly for students trying to make some spending money on the side. Just don't expect the work you put in to amount to much more than spare gas money and they'll work just fine.

Permissions in this forum:
You
cannot
reply to topics in this forum